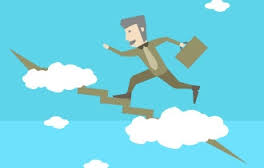 I accomplished a major life goal last month. I published a book: Social Media for Salespeople.  This accomplishment not only allows me to check off "write a book" from my bucket list; it has also taught me 3 important life lessons. First a little background on how I was led to writing this book.
Although I have always loved reading and have imagined myself writing a book someday, I had not been in the practice of writing anything that someone else might read other than emails, proposals and tweets. In spite of this lack of any evidence that I might be able to write something of merit, I was fortunate enough to be invited to contribute to the salesforce blog. I began to tentatively contribute a post here and there about sales techniques and social media. I got some encouraging feedback from people who said that the information I was sharing was helpful to them. This got me thinking that perhaps I could help other salespeople navigate the unwieldy world of social media.
I began to research what was available on Amazon and what was available for free online and found pricey business books about social media marketing and a ton of free e-books that had the true purpose of promoting social media training consulting or software products. There wasn't a straightforward step-by-step guide that walked a salesperson through how to use Facebook, twitter, etc. to build their pipeline.
There was a need. I had a solution. Salespeople love these types of situations. So I decided that I would write the book. Here are some life lessons that I learned along the way:
1. Don't underestimate the power of your network to help you accomplish your goals.
I learned that I have some amazing people in my circle of friends that were willing to help me. A close friend who had been a business book editor at Wiley graciously edited my book and filled me in on the business of book publishing. A friend of my father's who is a sales expert and trains salespeople gave me excellent feedback. My friend and past co-worker, Steven Contreras of Contreras Design, made a gorgeous book cover for me. Another friend and past co-worker, Katie Lance of Katie Lance Consulting, wrote a guest chapter on social media for real estate agents. Yet another friend gave me the verbal kick in the butt I needed to finally finish so that the book was available online when mentioned in a story on Forbes.com. I also received tons of moral support from my family and several friends wrote reviews. Do not be afraid to ask your network for help (let's call that lesson 1.5).
2. Numbers aren't everything.
In this metrics and big data focused society, it's tempting to turn to numbers to measure your success. Sometimes that's not what is most important. I chose to self publish my book using vook, a business owned by my former boss Brad Inman. Vook was a fantastic partner and helped me get the book into the right format, uploaded it onto Amazon and other online bookstores and set me up with a dashboard where I can track the daily sales of the book. I can only guess as to how much work it would have been to complete this project without vook. As much as it's fun to see how my book is selling (and I do log into vook almost every day), the value of the project does not lie in its sales numbers for me. For me the value of this project comes from having accomplished a goal that was very personal and the satisfaction that comes from that. I can now call myself an author.
3. Just say yes.
I have had a number of people offer me opportunities that I could have declined out of fear of failure or lack of time. By deciding to "just say yes" beginning with the opportunity to blog for salesforce, I was led down a new path that I thought I wouldn't be going down for many years to come. Of course, it looks a lot different than I anticipated (I figured a memoir would be the type of book I'd eventually write) but it's exciting and has opened my mind to a whole new suite of possibilities for my career and life. I had been feeling pigeon-holed as a salesperson but writing this book allowed me to take that expertise I had built over many years and use it in a new way.
Whether your big hairy goal is to write a book or do something else entirely, I encourage you to start taking some actions that could put you on the path to accomplishing it. Whether or not you accomplish that goal, you'll learn a lot along the way.